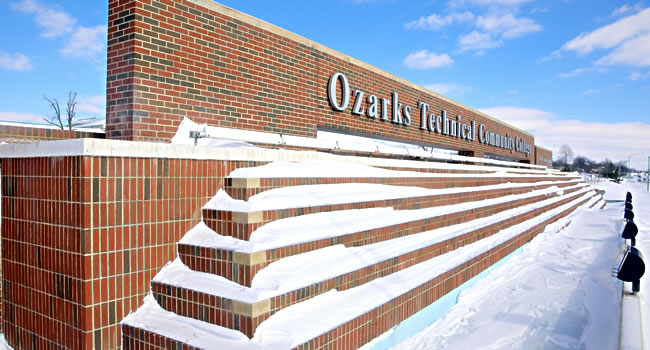 Ozarks Technical Community College is committed to providing a safe environment in which to learn and work.  Students and employees must make it their personal responsibility to stay informed regarding college closures, cancellations or delays.
Every effort is made to provide announcement of school closings by 6 a.m. However, changing weather conditions often require decisions to be made after 6 a.m. or at other times. The conditions may dictate specific closures for individual campuses and/or regional education centers.
Communication regarding college closures or class cancellations will be as follows:
The college website is the main point of communication.
An email will be sent to all students and employees.
Monitor local radio and television stations for announcements.
A notification will be sent via the college's text-messaging system (sign up here).
A recorded message will be left on the college's phone system.
In the event of a delayed opening, classes scheduled prior to the opening time announced will NOT be in session (i.e., a 9:30 a.m. class will NOT take place with a 10 a.m. delayed start).
If the college closes early, classes in session will conclude at the closing time regardless of when they begin (i.e., if the college is closing at 3 p.m., a 2:30 p.m. class will end at 3 p.m. regardless of the regularly scheduled ending time).
When closures or cancellations are necessary, the subsequent guidelines will be followed:
Unless otherwise notified, all employees are not required to report to work.
Essential personnel designated by their vice chancellor are expected to report to work.
Employees unsure of their status as essential personnel should contact their supervisor.
The primary concern during inclement weather is the safety of our students and employees. Good judgment is essential in the individual's decision whether to travel during potentially hazardous conditions.